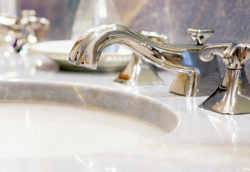 Refresh your Kitchen with a new faucet and cabinet hardware.
The holidays are all about cooking and the kitchen is where everyone gathers. Switching out your kitchen faucet and cabinet hardware will update the aesthetics of your space and to help to add functionality.
---
Turn up the heat by installing gas logs.
Gas log sets are a major upgrade that generally can be purchased, delivered and installed within a week – if you currently have natural gas or propane supplied to your home. (Installing before the holidays also gives you time to get acquainted with them before hosting friends and family)
---
Out with the old, in with the new bathroom accessories!
Instantly elevate your bathroom by changing out different accessories like adding a new decorative vanity mirror or a curved shower rod that gives the illusion of more space in the shower. Adorn nearby walls with new towel bars, hooks, and toilet paper holders in a modern metal finish such as chrome or rose gold. Toilets seats can be switched out to slow closing lids that help eliminate loud seat banging. And finally, add a trellis rug for an unexpected texture and pop of pattern. Updating a guest bathroom room does not need to mean that you need to demo or spend a ton a money, changing out accessories can give new life and make your visitors feel more comfortable.