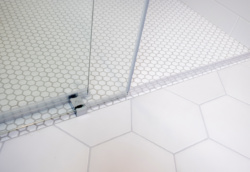 Whether you're recovering from an injury, looking to make your house more accessible, or just to skip those stairs, our Certified Aging-in-Place Specialists (CAPS) can help. Our customers have come to us for help making their homes safer and more accommodating for post-surgery care, increased accessibility, lifestyle changes, and more.
Check out these tips and tricks that will help keep you stylish and safe, no matter the reason:
Install a grab bar or handrail in hallways and near stairs, bathtubs, showers, and toilets for increased support. This is a low-cost investment that makes a big impact on safety and peace of mind for you and your loved ones.
Replace your bathtub with a wheelchair-accessible, zero-threshold shower. I mean who doesn't want a walk-in shower after a long, stressful day?
Update those floors! Whether it's installing no slip flooring, heated tile, removing throw rugs, or absolving thresholds, Avon Plumbing & Heating has got you covered, literally.
Try the Comfort Height Tall Toilet which is 2" higher than our other models. Allowing you to stand and sit with ease.
Switch out those old rusty faucets and levers for touchless technology. Not only does it help regulate temperature and increase ease of access, but it's germ friendly too! With the extensive list of brands in our showroom, we are sure to meet your needs for style and comfort.
Updates can be made to the rest of the home as well, including stair lifts, higher resolution lighting, gas fireplaces, and widening doorways and hallways for accessibility purposes and possibly those grandkids who are always running around.
Still not sure where to start? Stop by our showroom Monday through Friday, 8 am – 4 pm or Saturday 8 am – 12 pm to meet with one of our Certified Aging-in-Place Specialists (CAPS). Whatever living your best life entails, Avon Plumbing & Heating has got you covered.