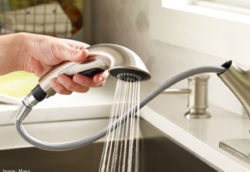 Did you know that most Americans spend more time in the kitchen than any other room in the house? The kitchen is the heart of the home, the command center for your family. It's no wonder many of us enjoy adding features and touches that add both form and function to the kitchen.
When it comes to picking out a faucet, there are countless options, styles, and brands to choose from. There are many factors to consider when making a selection that works best for your kitchen.
Layout
Unless you're doing a larger remodel, the type of faucet you choose may depend on what you currently have in place. If you aren't replacing your countertops, you're likely limited to the number of holes already cut into the surface. Usually, there are one to four holes in the counter surface. That will help you determine which types of faucets you should look for.
If you're starting over and can make the choice yourself, be sure that your design team is aware of your selection so they can plan accordingly.
Finish & Style
Faucets come in a wide variety of colors, finishes, and styles. Colors and finishes range from oil-rubbed bronze to brushed nickel and many, many more. Choose from a traditional look in stainless steel or opt for a sleek modern faucet in matte black.
You can let your personal taste shine through with your selection. Make a statement with a surprising style or finish that reflects your unique preferences.
Features
What features are important for the way you use your faucet? Go for a touchless faucet for hands-free water flow. Choose a sprayer type that you like best – pull-down, pull-out or side sprayer. (Keep in mind that the last option requires an additional hold in your faucet layout.)
Arc
The arc is the height to which your faucet rises above the sink. This may seem like a style preference, but it can also be a matter of functionality. For example, a high arc faucet might obstruct the lovely view of your backyard from the window above your sink. But if you frequently find yourself needing more clearance for large items (think large pots), a low arc faucet might not offer enough space. Consider this when picking a high arc faucet (8-10 inches above the sink) or a low arc (3-8 inches).
Extras
Faucets are not limited to the sink. Many kitchens feature "bonus" faucets that serve specific functions. Pot-fillers, bar faucets, and filtered drinking spouts are now commonly found in well-appointed kitchens.
Once you've decided which features, colors, and functions are right for you, stop by our showroom to check out our selection of faucets. We have dozens of styles on display for you to view and test to see what you like best. We have everything but including the kitchen sink!