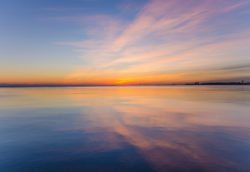 Summertime embraces a lighter, more vibrant color palette. When our days become longer and brighter, our minds often travel to thoughts of beaches and lakes. We are inspired by the green grass, turquoise waves and the yellow and pink fiery sunsets. The goal is to capture the feelings and moments of summer and turn them into design elements in a home, forever evoking the memories of those sunny days.
In New England, we tend to be safe side with color but are currently seeing a huge trend in cobalt and navy cabinets for the bathrooms. These cool blues are often paired with quartz tops that make the look timeless.
Kitchens are pulling more neutral and natural vibes that dazzle and inspire the coastal driftwood feel. Beautiful azure quartz kitchen counters are a great neutral to pull into your home that make a strong statement and are timeless.
Lastly, if you are ready to really add a pop to your space, rich wall colors are always fun! Adding a burst of sunny yellow or blushing pinks can bring the feeling of live and movement into the space, a true sign of summer.
Whatever your favorite summertime memory is, try incorporating it into your home with a color that inspires.