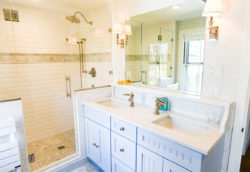 Bathroom lighting is often one of the last considerations when picking out finishing touches in a renovation or building project. However, lighting can have a big impact on form and function in all of your bathrooms.
In a half bathroom or powder room, low wattage ambient light is often a good bet. Set the tone for guests with decorative sconces for a sophisticated and functional look. Go for glam with an elegant fixture to dress up your space.
In a main or master bathroom, there are many lighting types/functions to consider, and often multiple types are used. In any bathroom with a shower or tub, a ceiling fan is a must to circulate steamy air. Many options include a light.
Task mirrors serve specific purposes; magnifying mirrors work well in a vanity area for applying makeup or shaving. An LED light in the shower is beneficial and convenient, allowing bathers to see better and shower safer.
Another light with a small footprint, but a big impact is a night light. Avoid fumbling for the light switch during those late-night or early-morning trips to the toilet with a small built-in light that stays on when overhead lights are turned off.
Many bathroom vanity manufacturers offer complimentary lighting options that make your decision even easier and creates a cohesive overall design.
Other tips for choosing options for your room:
For full and half baths alike, dimmers are a great way to control lighting levels.

Use frosted or white bulbs rather than clear bulbs to avoid glare Incandescent lighting is best in the bathroom because of its warm daylight glow.

The more lights, the better. It's never a bad idea to have multiple light sources. You can always use that dimmer switch when less lighting is needed!

Have fixtures installed facing downward to make it easier to change light bulbs.
Picking out options can be overwhelming. Our design experts are on hand to help you pick and choose the best styles, brands, and types of lighting for your bathroom project. They have plenty of "bright" ideas and can aid you in making your final selections!