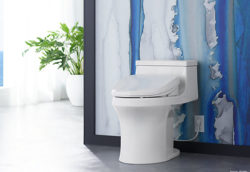 1. Is your current toilet compatible with the bidet seat you want? Toto and Kohler both offer measurements of their bidet. However, they recommend using their toilets to fit their seats.
2. We recommend having a professional install your bidet seat. Most have a power cord so you will need a GFI plug near the toilet. A plumber will also need to tap into your toilet water supply line.
3. Ergonomics are important. Bidets offer different options to control the seat's functions. Some have a remote control on the wall; others have a control panel built into the side of the seat. Consider what will work best for your situation in choosing a bidet for your bathroom.
4. What functions do you really need? Some bidets seats offer additional features, such as:
Warm water
Dual-action spray
Cycling movement
Massage features
Adjustable water temperature and volume
Warm air drying
Automatic air deodorizer
Night lights
5. Lastly, have a budget in mind. Bidet seats can range from $450–$2500.