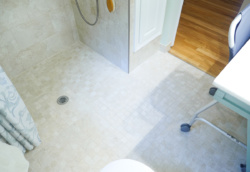 One of the many downsides of the COVID pandemic was the necessity to postpone certain non-life-threatening surgeries. Hospitals throughout Connecticut and the country are now rescheduling those surgeries and are working through the backlog to bring long-awaited relief to patients of all ages.
Many people are able to recuperate from elective surgeries in their own homes – and oftentimes, small modifications to the home can make this process even smoother. Your doctor will certainly offer suggestions on ways to adapt your home for safety and functionality – especially for those having surgeries that limit movement or involve joint replacements.
Over the years, our customers have often come to us for help making their homes safer and more accommodating for post-surgery care (or simply for living in place). Our Certified Aging-in-Place Specialist (CAPS) helps review their needs and seek solutions for their spaces. Many popular requests include:
Installing grab bars and handrails in hallways and near stairs, bathtubs, showers, and toilets for crucial support. Grab bars are a low-cost investment that makes a big impact on safety and peace of mind.
Replacing a bathtub with a wheelchair-accessible, walk-in shower. Showers can also be improved with temporary or permanent seating (benches) and non-slip floors. (There are also options to install benches that help people get in and out of bathtubs, as an alternative to completely replacing a tub.)
Improving flooring by adding temporary ramps over thresholds, removing thresholds altogether, installing no-slip flooring, and removing throw rugs.
Installing higher comfort-level toilets that are easier to use.
Replacing regular sink or tub faucets to lever types or even touchless ones for easier use and to better regulate hot water. In the shower, consider installing a handshower-style head that improves accessibility. Look for ones with magnetic docking stations so the showerhead can be repositioned to a lower place.
Other upgrades could include installing stair lifts, improving lighting, replacing traditional fireplaces with gas log fireplaces, and widening doorways to allow more room for wheelchairs, crutches, or other aides.
These tips are also great for people who simply want to make their homes safer as they age or if they have a stroke, debilitating disease such as Parkinson's or MS, or other life-altering condition. People sometimes move their bedrooms to the first floor so they can avoid stairs altogether, or they leverage today's technology so they can continue to perform basic tasks and overcome physical challenges. These simple upgrades are a lot less expensive than a move into an assisted living community or even to a smaller condo or apartment. They may even help with the resale value when the time comes.
Contact Avon Plumbing & Heating for a much closer look at the many options on the market today, for more exact cost estimates, and for advice that will make your home safer and more comfortable for everyone inside.