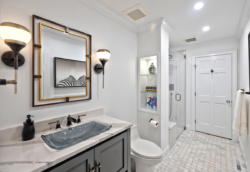 One of the most exciting things about owning a home is being able to put your own personal stamp on it, and our recent renovation did just that.
Nestled on a beautiful piece of land in Northern Connecticut, this home was gorgeous from the inside out. The grounds covered in a carefully cultivated garden and custom stone patio, all the way to the cozy master bedroom and open layout kitchen. But one thing was missing – the bathrooms didn't quite match the rest of the home.
Here's where we came in!
Our design and renovation experts did a full renovation of not one, not two, not three, but FOUR bathrooms. The goal: bringing the homeowner's dream home to life. The renovation included a master bathroom, the powder room off of the kitchen area, the Jack & Jill bathroom, and the guest room bathroom – each bringing its own style and flair to the party. Out went the green walls and tired tile, and in came updated color schemes and breathtaking showerscapes filled with all the modern amenities one could desire.
The master bathroom featured french doors that opened up to a large soaking tub overlooking a bay window, surrounded by intricate gray and white laced tile. Sitting next to a standing shower filled with three different showerheads and a skylight to let the sun in – this was the ultimate oasis after a long day.
The powder room was up next, allowing us to flex our design skills and break out the deeper colors and fun accents. Showcasing black and gold knobs, and a glass sink, this space was the most exciting to produce.
The guest room bathroom, once filled with baseball-themed wallpaper, now felt like walking into a vacation destination. Filled with varying shades of blue, a crisp white vanity, and marble countertops, your guests may never want to leave!
And lastly, but certainly not least, the Jack & Jill. Highlighting soft neutrals, plenty of space, and a serene feel, this space was perfect for any family member.
The homeowners could not be happier and at Avon Plumbing & Heating, that's our number one goal. Ready to get your renovation started? Call us today at 860.677.9721 or stop by our design showroom to jump-start your dream home.