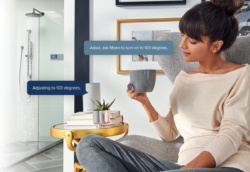 Technology is integrated into everyday life and when it comes to your home, the bathroom is no exception. These hi-tech features will make your bathroom feel so luxurious, you'll swear you're at a spa in Silicon Valley.
Mirrors
How would you like a fog-less mirror? Better yet, how would you like to get ready in the morning with the morning news or sports report built right into your mirror? With specialty mirrors, you can! 
The Zen Illuminated Mirror features a built-in defogger and lumen touch dimmer that allows you to go from night-light to ultra-bright. It's perfect for applying make-up or shaving with a simple touch on the glass. For the ultimate in luxurious, hi-tech looking glasses, dress up your bathroom with a mirror that has a TV set within the glass. There's no wasted space with a 2-in-1 mirror and entertainment combo!
Showers
Alexa, turn on the shower. Yes, really. With a U by Moen Smart Shower system, you control your shower digitally using a remote control, smartphone, or your smart home's assistant, like Alexa or Google Assistant. You can even control the temperature of the water.
For the ultimate hi-tech spa experience, opt for a chromotherapy shower. While aromatherapy is for your sense of smell, chromotherapy appeals to your sense of sight. The LEDs in your tub or shower create a calming color cycle to make your bathing experience even more relaxing or invigorating. Try blue for a soothing nighttime bath, or yellow for an energizing morning shower to start your day. Make singing in the shower more enjoyable. Kohler's Moxie Shower Head has a Bluetooth enabled wireless speaker with superior sound quality by Harmon Kardon. Let the sound wash over you as you listen to your favorite songs or podcasts while you clean up. The speaker can even be removed for easy transport to picnics, the beach, and more.
Toilets
Hate cleaning the toilet? We've got the perfect solution for you! TOTO's self-cleaning toilet features electrolyzed water that cleans the bowl. It also has a heated seat, remote control, and a nightlight for those 2 am trips to the bathroom. It even has a built-in air deodorizer to mask any (ahem) bathroom odors.
No need to worry about germs when you install a toilet with touch-free flushing! With a wave of your hand, you can activate the flushing sensor without dirtying your hands. Don't worry – unlike public bathrooms, these sensors won't flush until you're ready. 
Radiant Flooring
A hi-tech bathroom wouldn't be complete without a heated floor that you control from an app. Stepping out of your digitally controlled shower onto a cold floor simply won't do! Radiant heat flooring that you can control from your smartphone allows you to prepare the perfect, cozy environment before you even set foot in the bathroom.