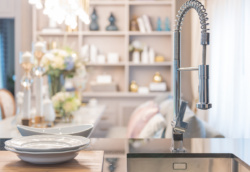 If your kitchen is the heart of your home, the kitchen faucet is what makes it tick. Whether you are preparing a meal with your partner, bathing a puppy, or helping your child wash his hands, the kitchen faucet is the center of the action. So, when choosing a faucet that is right for your lifestyle, there are some important things to consider: function, form, and finish being the top three.
Function:
Recent technological advances (since the touchless faucet was introduced over 30 years ago) have made working in your kitchen easier, highly efficient, and more enjoyable!
You have 3 choices in faucet function:
Manually operate your faucet using lever/s for hot and cold water (the traditional way).
Motion detector operation – turning water on and off with the wave or tap of your hand.
Smart tech voice-activated faucets that you can program through your smartphone or tablet.
There are pros and cons for each option with cost being a major factor for some consumers. It is worth considering how you use your faucet: do you enjoy cooking and often have your hands full or messy when you realize your recipe calls for a ½ cup of water? Wave / no-touch technology might be something you would benefit from, as well as smartphone-assisted options that allow you to speak commands, even as specific as measured amounts and water temperature. Manually operated faucets are dependable and have a classic look. They can work in a variety of sink configurations, which brings us to our next consideration….
Form:
When shopping for your new faucet be prepared to know how your faucet is (or will be) mounted – on the wall or on the countertop – and how many holes it has. There can be 1 – 4 holes (for faucet, levers, and side sprayers or soap dispensers.) It is possible to add or cover holes, but it is often easier to cover than create new holes. For instance, if you have 4 holes currently and want to streamline the look of your faucet and change to a pulldown sprayer. You can add an escutcheon plate to cover the holes not used and opt for a soap dispenser to use in the space the side sprayer used to occupy.
The size of your sink is also a big factor in the shape and arc of the faucet you will need. Will you have big pots to fill and bulky items to wash? You will want to opt for a large sink and a gooseneck / high-arc spout to easily perform your daily tasks. If you have kitchen workspace constraints a smaller sink and a low-arc faucet would be more appropriate. Also consider the stream and how far you need it to reach while doing dishes, washing your hands, etc. Too far towards the edge of the sink or too high from the point of exit from the faucet could cause splashing, which will result in more messes to clean up. Which brings us to our next consideration…
Finish:
Finishes on faucets have come a long way. Many brands now offer a variety of options. If water spots and fingerprints will be a concern you might want to go for a matte finish over chrome or other metallics. For the longest-lasting finish for your faucet look for one with PVD (physical vapor deposition). Do you have kitchen hardware you'd like to match? For continuity you may want to choose a finish that complements the hardware as well as other features of your home – is your decor more modern, traditional, or transitional?
Of course, there will be a few more considerations for you to make, but you can't go wrong when starting with these basic elements. The design experts at Avon Plumbing will walk you through the process of choosing what is best for you and your lifestyle. If you consider the function, form, and finish you are looking for before you visit a showroom you will be ahead of the game when choosing that one important tool that keeps the wheels in motion in the heart of your home.