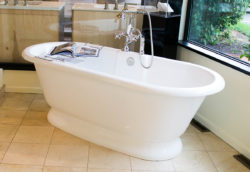 When starting a bathroom remodeling project, one of the biggest questions we get asked is "What kind of tub should I get – built-in or freestanding?" Many home renovation shows or publications today feature pictures of large sunny bathrooms with a big, beautiful freestanding tub.
The best way to decide what the right option is for your project is to stop by our showroom and see for yourself. We have a number of freestanding tub options on display for you to "test drive." We invite you to climb in (without water, of course!) and imagine how it would feel to soak up the suds in your beautiful new bathroom.
There are pros and cons to this style. Here are some things to consider.
Pros:
Freestanding tubs allow for flexibility of placement in the bathroom.
They tend to be deeper, giving the user a chance for a luxurious soaking experience.
They pay homage to classic style, bringing to mind the Victorian clawfoot tub (which are also quite popular).
Cons:
Safety is a concern with high-sided freestanding tubs. Consider how easily and safely you can climb out after a bath.
This style can be more costly.
Of course, there are pros and cons to the traditional built-in tub as well.
Pros:
There are lots of design options from which to choose. Your built-in can be as simple or ornate as you'd like.
This option works well in a smaller bathroom, especially if a shower also needs to be included in the design.
A "deck" can be built around the tub, providing ease of access when climbing in or out.
A built-in tub is easier to clean around.
Cons
There is less flexibility in placement. Sometimes the size and layout of a bathroom gives limited options.
The look of a built-in doesn't have the same elegance as it's freestanding counterpart, something desired by many homeowners.
Once you've weighed these factors and decided what works for your home, we can help you determine what brand, size, and design features you'd like to include in your project. No matter which style you choose, a tub can become a focal point of your bathroom. Ultimately, everyone has different tastes so choose what's best for you. Whatever you pick, make sure you strike a healthy balance of safety, luxury, and budget.