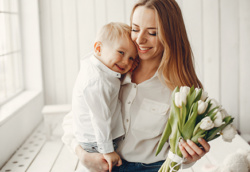 Want to give Mom a gift that she can use all year? Stop by our showroom to check out these items that will make a great gift for her!
1. Touchless Faucet
This smart "device" uses motion sensors to detect when to turn it on and off. Convenient and hands-free, this is one of the best upgrades to a kitchen that will give it a luxurious feel.
2. Smart Mirror
Treat Mom to the gift of an interactive bathroom experience. A smart mirror is a great way to incorporate technology into her daily routine. It's an upgrade she's sure to love!
3. Rainfall Showerhead
With a rainfall showerhead, Mom won't ever want to shower any other way. Turning a normal shower into a spa-like experience is the perfect gift to help Mom feel her best every day!
4. Soaking Tub
Whether Mom had a long day or just needs some self-care, a soaking tub will make for the perfect addition. Made for baths and relaxation, you can't go wrong with this Mother's Day gift.
Stop by our showroom Monday – Friday, 8 am – 4 pm or Saturday 8 am – 12 pm. Whatever you decide to get, we're here to help. Happy shopping!