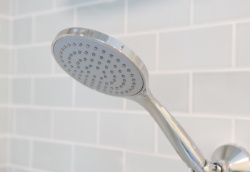 A bathroom has a specific function, but that doesn't mean it should lack style! There are many ways you can customize your bathroom – and specifically your shower – to turn it into a spa-like retreat that you can enjoy every day.
The first consideration in planning a shower makeover is the type of shower – fiberglass or tile. The size layout of your space may have an impact on which option you choose. A standard fiberglass surround comes in a number of colors, sizes, and styles, and many offer additional features, like seats and storage areas. The downside to a fiberglass shower is that you are somewhat limited by the dimensions of standard styles. They are prefabricated, and less easily customizable.
If you opt for a tile shower, you have more flexibility to design and structure it to your desired specifications. You can build in seating, footrests (great for shaving your legs, ladies!), storage, and even choose a layout that places the shower drain in an optimal location. Give yourself plenty of room to be able to move around and step out safely!
Subway tile is a classic choice. But there are so many other options you can pick to create a space that's unique and inviting. Consider a different shape – like hexagon, arabesque, diamond, Moroccan fish scales, or chevron patterns. These tiles come in a wide variety of colors, textures, and sizes that allow you to flex your design creativity.
In either style of shower, you can install a luxurious shower head which will make bathing even more enjoyable. Moen has designed the best rainshower experience with their Immersion technology showerheads. Other fun features to consider when selecting a showerhead: smart technology, massage features, and handheld models.
However you decide to remodel your shower, keep safety top of mind in your design. Many home-related accidents take place in the bathroom, and you can take steps to avoid them by adding grab bars and slip-proof flooring. A low threshold is also a great idea for avoiding tripping. There are many styles of grab bars that are not only practical but also attractive.