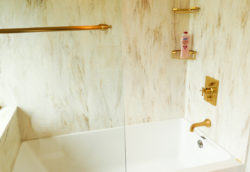 What do our Designers and Showroom Consultants say to Corian ® in the shower……Yes Please!
Corian ® is innovative, a natural material and easy to clean! So why does it work so well in the shower? It is a nonporous material so stains cannot penetrate the surface and virtually seamless, eliminating the need for scrubbing like with traditional tile and grout.
Other benefits:
Ease of Maintenance/Cleanability
Does not Support Microbial Growth
Sound Absorption/Acoustics
Low Flammability
Initial and Lifestyle Cost Effectiveness
Slip Resistance-Appropriate Coefficient of Friction
Ease of Installation, Demolition, and Replacement
Resilient, Impact Resistant
Control of Reflectivity/Glare
Options for Color, Pattern, and Textures
Non-Toxic/Non-Allergenic
Our showroom features several Corian ® displays in a wide variety of styles and colors. We are currently loving Silver Linear! So whatever your shower goals include, make sure one of them is Corian ®.