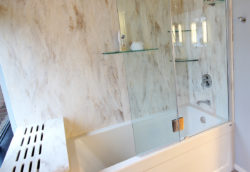 Low maintenance is key in today's bathroom renovations. Both Corian and Swanstone offer solid Surface walls for showers and tubs. Beautiful walls without the grout!
To add interest, or break up the bathroom, choose traditional painted or stained wood Wainscoting. Another choice would be tile with a chair rail for a different design feature.
Many homeowners are completely leaving out the tub option and opting for a large no threshold showers. The looks is clean and you're able to walk into your shower without the worry of stepping or tripping over the sides.