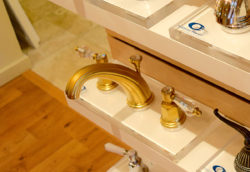 New England is warming to the Rose gold finish, brushed gold, and unlacquered brass. We're seeing this a lot in fixture finishes.
Linear lines are huge in faucets, sinks, and vanities. They give a more definitive and clean look.
The importance of lighting is evident in kitchens and bathrooms now, more than ever. The lighting lines we carry in our showroom offer an array of choices!