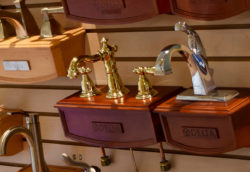 Satin gold fixtures with softer colors add pops of elegance.
The continuity and flow of the 12" x 24" tile on your floor as well as your shower brings consistency and style to your bathroom.
Hand showers are a must for cleaning and are currently trending for Aging-In-Place.
Our beautiful hardware can transform an entire room at an affordable price.