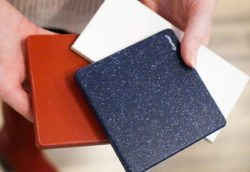 We loving adding in DuPont ™ Corian ® into our designs. Here are 5 myths that help explain why we love using it!
WHAT IS CORIAN ®?
Corian ® is a solid surface
consisting of natural minerals
and pure acrylic polymer,
which provides superior design
possibilities.
IT STAINS?
No, Corian ® is resistant to stains.
Any dirt, even the most difficult,
can be removed. It is also
seamless when applied which
makes for easy maintenance in
the bathroom.
IT'S HARD TO CLEAN?
Nope, it's simple: just use soap,
detergent, multipurpose cleaner
or scouring cream and a common
kitchen sponge, rubbing the
surface in a circular motion.
IT BURNS?
Corian ® solid surface is
heat resistant and remains
undamaged in temperatures
up to 212oF. However, as with
all countertop materials, it is
important to minimize direct heat
exposure to protect your surface
and investment.
IT SCRATCHES?
Corian ® is remarkably durable,
it may scratch but can be easily
repaired. Our light colors receive
a matte finish that minimizes the
perception of a scratch, while
DuPont ™ Corian ® DeepColor ™
technology gives greater depth
to the color, reducing scratch
appearance.